Blessing, by Lyn Cote, is a book about Blessing Brightman, a Quaker who left her community to marry a man who was not who she thought he was. After his death, she determines the rest of her life will be spent helping orphans, fighting for women's rights, and supporting abolition. Soon, Gerard Ramsay enters her life, and nothing is the same.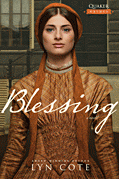 Gerard is a young man determined to break free of his controlling father, who is trying to force him to marry a woman he doesn't love. When arriving in Cincinnati, Gerard meets some unsavory characters, as well as Blessing Brightman. Throughout the book there is romance, mystery, and suspense. I found myself not wanting to put the book down, and I really enjoyed this story from start to finish.
I liked seeing Gerard change from someone who would do anything to spite his father into someone who grew up into a person who would do anything to keep Blessing, and those in her care, safe. This shows that anything is possible when you have faith and the right person in your life to help you grow. I really enjoyed this book and I cannot wait to read more of the books in the Quaker Brides series!!
Disclosure of Material Connection: I received a copy of this book free from Tyndale as part of a blog tour. I was not required to write a positive review. The opinions I have expressed are my own. I am disclosing this in accordance with the Federal Trade Commission's 16 CFR, Part 255: "Guides Concerning the Use of Endorsements and Testimonials in Advertising."